Most Durable Hardwood Flooring
Got kids and pets and are looking for the most durable hardwood flooring possible? Look no further. Dogwood® densified natural wood flooring can handle it all.
July 20, 2023 | By Bruce Product Expert
You're looking to update your flooring. But you have two concerns. First, you have a house full of kids. And second, as if that's not enough, you have a couple of dogs running around the house.

Tile or stone flooring offers two durable options. But they're expensive and lack the warmth of hardwood flooring.

There's always laminate flooring or luxury vinyl, both known for their impressive scratch resistance. And luxury vinyl flooring is even waterproof. But again, it's just not natural hardwood flooring.


Real Wood Flooring that's Pet- and Kid-Friendly
There's no question that solid wood flooring presents a durable flooring option. And nothing can quite match it for beauty. But you know your kids will play with their toys on the floor. And your dogs will romp around with their nails, let alone likely create water spills and other accidents.

So, will hardwood floors be durable enough to take all that? And so the quest begins — what's the most durable hardwood flooring capable of withstanding daily wear and tear.

Well, it just so happens that there is a top dog for durable hardwood flooring – Dogwood® from Bruce. It's pet-friendly, kid-friendly, and 100% genuine hardwood, only better.


The Janka Hardness Test
Durable flooring gets its start by using hardwoods with high Janka ratings. It measures the force required to embed an 11.28-millimeter-diameter steel ball halfway into a piece of wood. The higher the rating, the more power it takes to accomplish that. Additionally, the hardwood is more likely to handle impacts from kids and pets.
For example, Brazilian Walnut owns a Janka rating of 3684. That makes it an exceptionally durable material for hardwood flooring. Brazilian Cherry is another durable exotic species with a 2350 rating.

Among domestic hardwood species, hickory tops the charts with an 1820 rating. Maple and white oak follow at 1450 and 1360.

Not surprisingly, Dogwood uses hickory and white oak for the majority of its offering. You can also select from walnut and red oak, two other durable types of hardwood flooring. So, the flooring gets off to a solid start. It uses some of the most durable hardwoods right out of the gates.
Hardwood Flooring Made Harder
But Dogwood wood flooring doesn't stop there. Instead, it uses a revolutionary, all-natural process featuring heat and pressure. That combination creates densified wood that takes oak from a rating of 1360 to more than a 3000 Janka score.

And it pushes Hickory's rating to more than 3500, nearly equaling one of the hardest flooring materials in Brazilian Walnut.

The net result is densified wood flooring so durable that it can hold up to almost anything you throw at it. Best of all, unlike laminate or LVP, it's natural wood. So, like all engineered floors, it uses a 100% genuine hardwood wear layer for its surface.
Unparalleled Scratch and Dent Resistance vs. Other Hardwoods
As we've said, the harder the wood, the more durable the hardwood flooring. Well, Dogwood delivers 4X more scratch resistance than traditional wood flooring. Plus, it offers 6X the dent resistance of competitive hardwoods.

Scratch resistance was measured using an Otto Test, which simulates a dog's scratch by analyzing actual damage from dogs. It compared scratches on solid hardwood, engineered hardwood, and densified wood.

While solid and engineered hardwood clearly showed scratches, there were no apparent scratches on the densified wood.

Another test for indentation resistance by ASTM D2394 uses a two-inch weighted ball dropped from a height of five feet. It then measures the indentation caused by the impact. Again, Dogwood led the pack versus competitive types of wood flooring by a large margin.
The Most Durable Hardwood Floors Demand Waterproof Protection
Scratches and dents are one thing. But a floor must be waterproof to meet the challenges of kids and pets. Let's face it — kids and pets translate to spills. And even the most well-trained dog has an occasional slip-up at potty time.

Engineered hardwood already offers a measure of water resistance. In addition, it uses an interwoven core, adding greater stability to the flooring's planks. That helps to minimize expansion and contraction.

So engineered wood flooring offers something solid hardwood flooring lacks — water resistance. As a result, solid hardwood is susceptible to water damage. That's why it's essential to wipe up spills sooner than later. Otherwise, you risk stains or, worse, having your wood floors warp.

Dogwood engineered hardwood goes one step further. It can handle standing water for up to 24 hours without staining or discoloring.

Moreover, the flooring features Cleantivity™ antimicrobial coating technology. The coating inhibits the growth of bacteria, mold, and mildew. In addition, it protects against odor, damage, and discoloration caused by mold or mildew.
Install Dogwood Pet-Friendly Wood Floors Anywhere
Durable flooring should be able to go anywhere without concern. And that's precisely the case with Dogwood engineered hardwood flooring.

Basements, bathrooms, kitchens, laundry rooms – it doesn't matter. You can install this engineered hardwood in any room you like.

And like other engineered wood products, you can use various installation methods, including gluing, stapling, or floating.
Best-in-Class Warranty for Hardwood Flooring
Dogwood has precisely what you'd expect from the most durable hardwood flooring – a top-notch warranty.

It features a 50-year residential warranty. So, you'll likely never have to repurchase another hardwood floor.

Even if your floors eventually show wear, you can sand and refinish them to extend their life. Unfortunately, that's not something alternatives like laminate or LVP can handle.
Durable Hardwood Flooring That Has It All
So what constitutes durable hardwood flooring?
High Janka rating

Superior scratch resistance

Superior dent resistance

Waterproof performance

Best-in-class warranty
Dogwood densified wood flooring checks all the boxes. It's one of the best, most durable hardwood flooring options.

It's available from in 13 colors with low- and medium-gloss finishes. Dogwood also features a wire-brushed surface.

Using our hardwood flooring visualizer, you can even see how it will look in your room. And when you're ready to buy, our retail locater will help you find the closest dealer.
---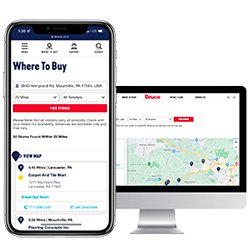 Ready to shop for durable wood flooring near you?
Use our retail locator to find where you can buy Bruce flooring products. 
Find a Store