Hardwood Trim & Moldings
Have you decided…
Why Add Trim & Molding?
PUT THE FINISHING TOUCH ON YOUR FLOORING PROJECT.
When you're starting a new hardwood flooring project, don't underestimate the importance of trims and moldings—they should be factored into your budget and plans from the beginning. 

Trims and moldings are small additions that have big impact on the overall look of your floor and how well it functions. They create continuity by hiding edges, gaps and joints with coordinated or matching styles. They allow smooth transitions between hardwood and other types of flooring. And they protect areas that get a lot of wear, such as step edges. 

The end result? Gorgeous floors that look flawlessly finished.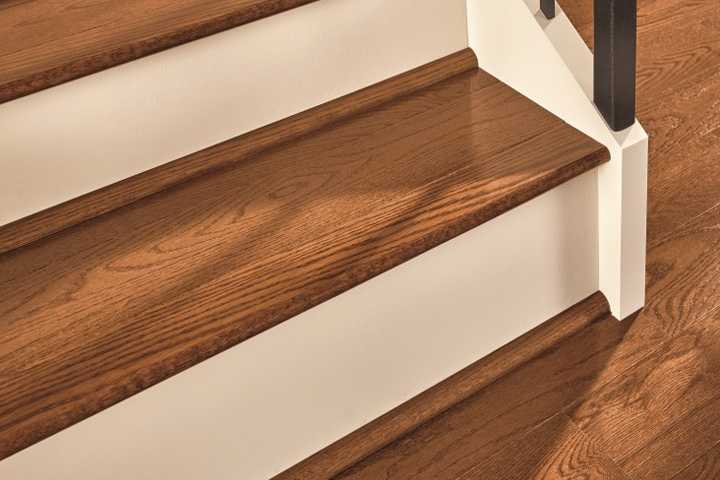 Choosing a Look
HOW TO FIND TRIMS AND MOLDINGS TO GO WITH ANY FLOOR.
For each Bruce® solid and engineered hardwood flooring product, we have a variety of coordinating trims and moldings to choose from. We recommend picking pieces that closely match the color and style of your floor. This continuity creates a sense of spaciousness and completes the look. A glossy cherry floor looks best with a glossy cherry trim, and so on. 
Can I get trims and moldings that match my floors exactly?
Yes! While all Bruce® flooring products have trims and moldings that coordinate well, many have pieces that are actually a digital 1:1 match in both color and style, for the most seamless look possible. 
How do I find coordinating or matching trims and moldings?
You can browse all of our options below, or look on the bottom of any flooring product page for a tab called "Trims and Moldings"—there we'll give you our recommendations for best pairings with that flooring style.
Understanding Your Options
WHERE AND WHY TO USE THESE ESSENTIAL PIECES.
Before you pick trims and moldings for your project, it helps to understand the options we offer—and how each can be used in your design.
Threshold Molding (aka Baby Threshold)

Use in doorways to finish the edge where flooring ends.
Transition smoothly between floors of different heights.

Flush Stair Nose

Use on steps, landings and the perimeter of elevated floors to protect edges.
Creates a smooth, finished look by connecting at the same level as the flooring.

Overlap Stair Nose

Use on step downs or landings for a finished appearance and to protect edges.
Profile is raised slightly, overlapping the flooring surface.

Reducer Strip

Slightly sloped to smoothly transition between different types or heights of flooring (hardwood and carpet, for example).
Multi-purpose piece can also be used as a room divider or to enhance the design around vertical surfaces like fireplaces and doorways.

Quarter Round Molding

Cover seams and expansion spaces where hardwood meets baseboards, steps and cabinets

T-Molding

Transition between different flooring types of the same height or between hardwood floors in adjacent rooms.
Can also be used to cover expansion/contraction joints.
All

Trims and Moldings Products