Hardwood Floor Grades
Confused by hardwood floor grade? Don't be. We'll tell you what select, natural, and rustic floor grades are and how they impact your flooring choice.
July 20, 2023 | By Bruce Product Expert
What You Need to Know About Hardwood Floor Grades
The first thing you must know about hardwood floor grades is that no governing body sets the standards. Instead, the grading system is primarily determined by individual manufacturers and suppliers. As a result, they may use their systems to classify the appearance and quality of the wood.

However, some industry organizations, such as the National Wood Flooring Association (NWFA), provide guidelines and recommendations for grading hardwood flooring. For example, the NWFA publishes a technical manual that includes grading rules for domestic and imported hardwood flooring. Manufacturers and suppliers can use that manual as a reference guide.

Although there is no set hardwood grading system, you'll likely encounter some standard industry terms – select, natural, and rustic.


Common Hardwood Flooring Grades
Hardwood flooring grades classify the appearance of wood flooring based on the quality and characteristics of the wood. There are typically four standard grades used in the industry.
Select Grade: The highest quality and most expensive flooring grade. It has few if any, knots or other natural imperfections. Generally, it has uniform color and a consistent grain pattern.

Natural Grade: This grade features wood with slightly more natural imperfections than clear grade. However, it's still primarily uniform with minimal knots of color variations.

Rustic Grade: Some manufacturers use this fourth grade for wood with even more knots and imperfections than common grade. Again, that's not necessarily a bad thing. If you're looking for unique, natural hardwood flooring, rustic grade offers lots of character.
It's a good idea to ask for a sample or view the wood in person. That way, you can ensure that the character grade meets your expectations. You can watch the video to learn more about grades and types of wood flooring.
What's the Benefit of Higher-Grade Hardwood Flooring?
Although hardwood flooring with any grade can be attractive, there are some benefits to selecting higher wood flooring grades.

First, select-grade hardwood floors have a uniform appearance. Moreover, the lack of knots and imperfections results in a visually appealing that lends elegance to your home and adds value.

Second, higher-grade hardwood floors are generally made from stronger, more durable wood species like oak and maple. As a result, they'll withstand heavy foot traffic and other wear and tear. In addition, they'll last longer and require less maintenance than lower-grade hardwood floors.

Third, because higher-grade wood floors are made from more consistent wood, they have fewer color or grain pattern variations.

Finally, select and natural-grade hardwoods might cost more. But they represent a long-term investment. Generally, hardwood floors add value to your home. Higher-grade wood flooring may even increase your resale value.

Overall, it can pay to use higher-grade hardwood flooring. You'll enjoy a more durable, visually appealing, and longer-lasting flooring option.
Do Unfinished Hardwood Floors Come in Different Grades Than Prefinished?
Typically, unfinished and prefinished hardwood floors use the same grading system. The wood's grade is based on the same criteria regardless of finish.

However, there are some differences between the two that can affect their appearance and grade. For example, prefinished hardwood floors are finished at the factory using special equipment. On the other hand, installers finish unfinished floors on-site.

Consequently, the finishing process for prefinished hardwood floors can be more consistent. So the flooring is more uniform in appearance and potentially higher grade.

In contrast, unfinished hardwood floors can be more variable because they depend on the installer's skill and technique. With more variations in the hardwood, it can result in a lower grade.
What About Solid vs. Engineered Hardwood?
Solid and engineered hardwood floors can have different grades. That's largely because they are made from different construction methods and various types of wood.

Solid hardwood floors are made from a single, solid piece of wood. But engineered hardwood floors are made from multiple layers glued together. The top layer of an engineered wood floor is made from high-quality hardwood veneer. The underlying layers are made from less expensive woods, typically plywood.

You can learn more about the difference between hardwood versus engineered hardwood here.

However, the grading system for either flooring option is based on the appearance of the wood. And because engineered hardwood uses a veneer, its appearance can be more consistent and uniform than solid hardwood.
Wood Types Can Impact Hardwood Grade
In addition, the type of wood used in solid and engineered hardwood floors can vary. As a result, different types of wood can have different grades based on their natural characteristics.

For example, maple and hickory flooring often have more imperfections like mineral streaks, knot holes, and other natural character elements. On the other hand, other species, like cherry or oak flooring, show fewer natural imperfections.

The bottom line is that the grading system for solid and engineered hardwood floors is similar. But the appearance and wood grade can vary based on construction methods and species.
Count on Bruce for Quality Hardwood Flooring
We've been a long-standing favorite of professional installers and DIY homeowners for a long time. So, you can trust the Bruce name for quality hardwood flooring.

We offer a broad selection of solid and engineered hardwood flooring – more than 350 colors and styles. You can also select from finishes like wire-brushed, hand-scraped, and traditional.

We've also pioneered exciting new hardwood flooring options like our Dogwood® collection. It features densified wood flooring that's twice as hard as standard wood. So, you'll enjoy improved scratch resistance and waterproof performance. In addition, it's genuinely pet-friendly hardwood flooring.

You can use our hardwood visualizer to find the floor that best fits your room. Upload a photo using your camera, and you'll instantly see how our wood flooring looks in your room.

Then, use our dealer locator to find the nearest retailer.
---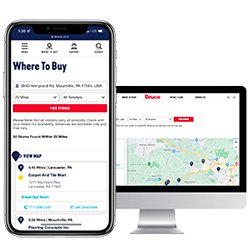 Ready to shop for quality wood flooring near you?
Use our retail locator to find where you can buy Bruce hardwood flooring products. 
Find a Store