High Traffic Flooring
Looking for high-traffic flooring? Take a look at our engineered hardwood flooring. It's scratch resistant and can handle foot traffic from pets and kids.
July 20, 2023 | By Bruce Product Expert
High Traffic Flooring That's Real Wood
Does this scenario sound familiar? You have a house full of active kids and pets all day. Plus, you like having friends and family over for get-togethers.

And there's everyday foot traffic. Now, that calls for high-traffic flooring.

With that kind of activity, you need flooring that can take some punishment while still looking new. After all, it will have to contend with scratching from your dog's nails. And, no doubt, your kids will play with their toys, leading to even more scratching and denting.

Finally, even the overall foot traffic will add blemishes to your floor's surface.

Fortunately, numerous high-traffic flooring options exist – luxury vinyl, rigid core, and laminate. If you're ok shying away from wood-look flooring, there's also natural stone, ceramic tile, and concrete flooring. But, if only wood flooring could handle the wear and tear of heavy foot traffic.

Well, guess what — there is wood flooring that takes it. Engineered hardwood is the best wood flooring for high-traffic areas.


What is Engineered Hardwood?
In case you aren't familiar, engineered hardwood is real wood flooring with a twist. Solid hardwood flooring uses a single piece of solid wood to create floor planks. But engineered hardwood uses a layered approach.

It's composed of plywood layers pressed together in a crisscrossed pattern. Those layers serve as the core of the flooring plank. And they make that core highly stable for added durability and strength to create high-traffic flooring.

A wear layer is used on the plank's surface. It consists of a 100% hardwood veneer. So if you purchase hickory engineered flooring, it features a layer of genuine hickory for the wear layer. Typically that layer is at least 2mm thick, though it can be as thick as 7mm.

You can learn more about the differences between solid and engineered hardwood here.
Thicker Wear Layers for Higher Traffic Wood Flooring
Generally, the thicker that wear layer, the better it works for high-traffic installations. Moreover, the thicker that layer, the more often you can sand and refinish your flooring to extend its life.

That's one area where engineered wood far surpasses other high-traffic flooring options. For instance, you can't refinish luxury vinyl, rigid core, or laminate wood-look flooring. You can only replace it. As a result, those floors typically last 25 years.

However, engineered hardwood flooring easily matches and beats that. Indeed, some engineered hardwoods like Barnwood Living by Mark Bowe carry 50-year lifetime warranties.
Advantages of Engineered Hardwood for High-Traffic Flooring
Engineered hardwood tops solid hardwood for water resistance. And if you need flooring for high-traffic areas, that can be handy.

After all, kids are kids, and they will spill their drinks. And you know your dog will throw water on your floors, shaking itself after being outside in the rain.

Engineered hardwood's layered construction makes it highly resistant to warping. So you'll have fewer worries about getting water on your flooring. That's a concern with other high-traffic flooring, like laminate flooring, that water destroys.

Engineered wood flooring typically includes an aluminum oxide finish. That finish is second only to diamonds for hardness. Consequently, it wards off scratches, stains, and dents.

Engineered hardwood also works well with underfloor heating. Underfloor heating creates a comfortable feel in the coldest winters. It's a great choice if you plan to be on your floors often.
The Best High-Traffic Wood Flooring
High traffic flooring starts by choosing harder wood species like hickory, maple, or oak that add protection against scratches compared to softer woods like pine and cherry. By selecting a more durable hardwood, you can maintain a beautiful and resilient surface, even in the face of your dog's playful antics and your kids' enthusiastic activities.

In addition, most engineered wood floors handle high traffic. But if you want the best wood flooring for high-traffic areas, the answer is simple – Dogwood® densified wood flooring.

Bruce Flooring has created an innovative way to make wood harder. The process uses pressure and heat to develop hardened wood. It's capable of handling even the highest trafficked areas.

This high-traffic wood flooring offers a host of benefits:
4x more scratch resistance than standard hardwoods

6x more dent resistance than traditional hardwoods

Waterproof wood flooring

Thanks to these features, you can use Dogwood flooring anywhere in your home – basements, bathrooms, kitchens, and laundry rooms. Places that even other engineered wood flooring might struggle with.

Laminate and luxury vinyl flooring are notorious for their scratch resistance. Typically, they can outperform most solid and engineered hardwoods. But densified engineered hardwood rivals and can surpass these other options for high-traffic flooring.
Engineered Hardwood is Easy Care
Any high-traffic flooring needs appropriate care. After all, the more traffic your floor gets, the more debris is littered. Well, like other types of high-traffic flooring, engineered hardwood is easy to clean.

Use a soft broom or vacuum with a brush attachment to remove dirt and debris. You can even damp mop your floors with high-traffic wood flooring like Dogwood. For that matter, most engineered hardwoods can handle a bit of damp mopping, providing you wring out the mop thoroughly.

You can also include a hardwood flooring cleaner specifically designed for hardwoods. For example, Bruce Hardwood and Laminate Floor Cleaner safely cleans solid and engineered wood flooring.
Count on Bruce for High-Traffic Flooring
Our wood flooring is made from select species of hardwoods known for their durability, like oak, maple, and hickory. We also offer alternatives like rigid-core vinyl flooring. It can withstand high-traffic areas and offers waterproof performance.

You can find the Bruce dealer nearest you here. And we've even removed some of the worries about purchasing flooring with our flooring visualizer. It lets you see how our high-traffic flooring options look in your room. All you have to do is take a picture of your room and let the app do the rest.
---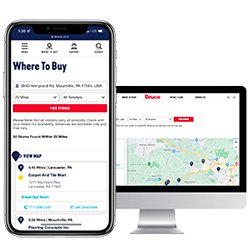 Ready to shop for high traffic flooring near you?
Use our retail locator to find where you can buy Bruce engineered flooring products. 
Find a Store