Prefinished Hardwood vs. Unfinished
July 21, 2022 | By Bruce Product Expert
Deciding Between Prefinished Hardwood vs. Unfinished?
Some folks may remember when there wasn't a choice between prefinished hardwood vs. unfinished hardwood floors. Before the 1940s, unfinished hardwood floors were the choice, really your only choice for hardwood flooring.

But World War II required new housing and factories – fast! So, prefinished hardwood floors entered the market, allowing workers to install hardwood floors faster.

Prefinished wood flooring allowed workers to quickly build barrack-style housing. The same holds for factories where unfinished flooring could take years to complete.

By 1950, homeowners had a choice of whether to use prefinished hardwood floors or unfinished hardwood floors. On a side note, a third option hit the market in the 1960s with the invention of engineered hardwood. By reading this blog, you can learn more about the differences between solid hardwood vs. engineered hardwood.

But today's topic is whether to use prefinished hardwood or unfinished hardwood flooring. We'll help you decide which is the better fit for you.


Prefinished Hardwood Flooring and Cons
With a prefinished hardwood floor, you can go to a local home center, select the product, and take it home. From there, it's immediately ready for installation (although most hardwood products will recommend giving the product time to acclimate to your home before installing it).

That's the beauty of prefinished solid wood floors. You can install them, and the room is ready to go immediately following installation. So, you can move your furniture back in place and enjoy your new hardwoods.
Prefinished Floors Avoid a Mess
There's no sanding required, so you don't have to worry about having dust scattered throughout your house, making clean-up much easier. Moreover, stray dust and hairs won't get embedded in the stain. That often happens when finishing a hardwood floor on-site.

More importantly, you won't be exposed to volatile organic compounds (VOCs) with prefinished hardwood floors. Because unfinished hardwood requires a finish, you may smell the vapors from polyurethane resins and solvents for days. Not so with prefinished wood flooring, as the factory applies the finish.

It often takes several days to finish an on-site hardwood floor, especially with drying time required in between coats. As a result, your flooring will be off-limits during that time. 
Factory Finishes Are Typically Superior
Factory finishes are genuinely better than if you or a contractor apply a stain and finish on-site. The finish lasts considerably longer and usually comes with a manufacturer limited warranty of 25 years or more.

The manufacturer uses a controlled environment to apply a chemical sealer, often aluminum oxide. Only diamonds, the hardest substance on earth, presents a harder surface.

The aluminum oxide sealer then typically embeds in a UV-cured urethane coat. The result is an incredibly hard flooring surface that resists scratches and dents.
Prefinished Hardwood Flooring Saves Money
Prefinished hardwood floors do cost more than unfinished hardwood, but only initially. When you factor in finishing costs, unfinished hardwood flooring costs more than prefinished hardwood.

For example, labor costs with unfinished flooring can be triple the cost of flooring itself.
Prefinished Flooring Cons
Although the factory finish offers greater durability, it presents issues if you ever have to refinish your hardwood floors. That's because the thickness of the prefinished topcoat requires considerable sanding to reach the raw wood surface.

However, as the plank thickness reduces, it limits the number of times you can refinish the floor. Plus, the process requires considerable labor.

In addition, you're limited to two fixes if a section of the hardwood floor gets damaged. One, sand the finish off the entire floor. Two, remove and replace the damaged section. This second reason is why it's wise to keep extra hardwood flooring planks stored somewhere so you can match color and style.

Finally, manufacturers limit the widths, lengths, colors, grains, and textures of prefinished hardwood vs. unfinished hardwood floors. So, you may be unable to find the exact match for your preference.
Pros and Cons of Unfinished Wood Flooring
The limited selection associated with prefinished hardwood fades away if you shift your focus to unfinished hardwood flooring. Unfinished flooring allows you to select from more hardwood species with even more shades and finish options.

You can also customize the floor's color to seamlessly match another section of your home. For example, you can test different stain colors to ensure they match the wood's colors from another room.

Apart from trying to match another room's color, you can also test stain colors. Testing lets you see which works best with your home's lighting and décor. You can even try the stains on several planks in different parts of the room to see how it works overall.

Finally, unfinished hardwood floors open the door for installing custom patterns, including herringbone, different borders, inlays, and medallions.
Bevels Using Prefinished Hardwood vs. Unfinished
Unfinished hardwood floors are flat. So, that gives you a nice, smooth surface—no beveled edges or grooves.

On the other hand, prefinished wood floors develop a bevel from the stain and coating layers. Those bevels hide slight discrepancies between plank depths and widths. But they also create noticeable V-shaped seams throughout the hardwood floor. The bevels are less obvious with wide plank flooring.

However, bevels can trap dirt, making prefinished hardwood floors somewhat more challenging to keep clean than unfinished wood flooring.

Bevels also play a hand in subflooring. With prefinished hardwood floors, the subfloor must be perfectly flat.
Contrastingly, on-site hardwood flooring allows you to sand to remove height differences for greater flexibility with the finished floor.
Drawbacks to Unfinished Wood Flooring
We've touched on the most glaring concerns with unfinished flooring.

First, your finish will have some imperfections. After all, it's not applied in a controlled environment like prefinished flooring. Often, those imperfections stem from dust settling on the hardwood flooring as the finish dries.

Second, unfinished hardwood requires more time, about twice as long as prefinished hardwood. Keep in mind, that the application of finish requires several days of drying between finishes.

Third, you can't just install the flooring and return to your life. Even after finishing the hardwood flooring, the final coat of finish needs time to dry. You'll also want to wait another few days to put furniture back into the room.
Which of the Flooring Option is Better – Prefinished Hardwood or Unfinished?
If you're faced with a time crunch, prefinished hardwood floors are the solution. They're also a good choice if you're installing brand new wood floors in your home. And finally, choose prefinished if you're ok with a more limited selection of hardwood flooring.

But if you have existing hardwood floors that need matching, on-site finishing is your better option. You can better control the color to create a precise match to your current solid hardwood flooring.

Bruce offers a great selection of prefinished hardwood flooring, ready for installation. You can choose from nearly 200 selections, including distressed and hand-scraped hardwood. Select from hickory, maple, red oak, and white oak.
---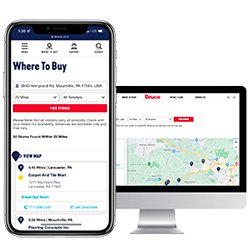 Ready to shop for prefinished hardwood near you?
Use our retail locator to find where you can buy Bruce prefinished hardwood flooring. 
Find a Store