How to Clean Wood Floors
Protect Your Investment in Your Hardwood Floors
January 25, 2023 | By Bruce Product Expert
If you invest in hardwood, you'll need to come to grips with how to clean wood floors. And often, knowing what not to do is as important as knowing what to do. Another key component to remember is taking preventive measures to protect your wood floors. Remember, with proper care, your hardwood flooring can last your lifetime.


Preventive Measures to Preserve Your Hardwood Floors
Tracked-in dirt presents one major enemy for your wood flooring. Your shoes and pets can bring debris into your home that mar your hardwood – mud, water, tiny stones, de-icing agents, and more. So, your best bet is to control that debris.

Start by putting floor mats inside and outside entryways. Mats trap debris and absorb water so they're not carried onto your hardwood floors. In addition, set up a boot/shoe removal station to remove them before they track water and debris onto your flooring. And don't wear high-heels or spikes that could dent your floor. So, if you're serious about keeping your hardwood intact, you should remove your shoes regardless of weather conditions.

Use area rugs and floor protectors to prevent blemishes on your hardwood. In addition, they'll help eliminate scratches and indents on your hardwood floors. That's especially true in high-traffic areas where you run the most significant risk of getting marks on your flooring.

These measures can help reduce the amount of work you'll face when cleaning wood floors. So now, let's get down to how to clean wood floors.
Routine Cleaning of Hardwood Floors
You should condition yourself to do a weekly touchup. But how often you clean your wood floors depends on how much traffic it receives. As a result, you should focus on high-traffic areas like your dining room or kitchen more frequently.

You can start using a soft-bristled, angled broom to keep debris accumulating. The angle helps get into corners better than a straight broom. But then, there's always your vacuum for a weekly cleaning.

However, ensure you use a floor-brush attachment, and never use a beater bar that can scratch your hardwoods. If you want to reduce your effort, you can pick up a robot vacuum to do the work.

Once you've removed surface debris that can scratch your floors, you can move to a dust mop for further cleaning. It's best to use some dusting agent to help pick up additional accumulations that could damage your hardwood floors.

It's a good idea to mop high-traffic areas once or twice weekly.
How to Deep Clean Your Hardwood Floors

Weekly touchups designed to remove dust can only do so much to keep your flooring hardwood looking great. Instead, you'll need to clean your floors deep periodically. Again, how often you do so depends on the traffic volume, but you should target at least four to six times annually.

To deep clean, you'll need a woof floor mop and hardwood flooring cleaner. Unfortunately, there's no silver bullet for that hardwood floors cleaner. So you can select from several options, but you'll want to use a solution with a neutral pH:

·   Dish soap and water
·   Vinegar and water (though it can dull some hardwood finishes and damage your floor's seal)
Teabags and water (the tannic acid in tea creates a nice shine)
·   Commercial hardwood floor cleaners like Bruce® Hardwood and Laminate Cleaner

Many hardwood floor manufacturers recommend specific hardwood floor cleaners. So, start by checking with them to ensure you follow the recommended cleaning methods outlined in the instructions or warranty.

You'll also want to avoid oils, furniture spray, and harsh chemicals. Oils leave a residue that can attract dirt. Furniture spray creates a slick surface that could lead to slipping and falling. In addition, many chemicals can cause hazing.

Moreover, you should steer clear despite the promise of hardwood floor cleaners that rejuvenate and revitalize your wood floors. Many of these cleaners put a supplemental product on your floor's surface that lasts for a short time.

Once you've determined your hardwood flooring cleaner, it's time to start. And by the way, this process applies to solid hardwood or engineered hardwood flooring.
Arm Yourself with a Damp Mop
A good old-fashioned mop does the trick if you're not interested in getting on your hands and knees with a soft cloth. First, soak your mop in the hardwood floor cleaner. Then, wring it out. You want your mop to be damp, not saturated. You might even want to invest in a spin mop.

Today's microfiber mops absorb less water than cotton mops, so you'll run less risk of your mop being too wet.

Remember, hardwood floors and water don't mix. By using too much water, you risk damaging your flooring. If you accidentally get too much water on your wood flooring, use a clean, dry towel to wipe it up.

Next, focus your efforts on cleaning small areas at a time. Let a place dry, and then move on to the next. Again, you can use a clean cloth or a dry mop to ensure they're dry.
How to Bring Out the Shine in Hardwood Floors
Many commercially available hardwood flooring cleaners include components that add luster to your hardwood floors. Look for products that incorporate some of these agents:

·   Solvents: They speed drying to reduce moisture while minimizing streaking and buildup.
·   Surfactants: Surfactants loosen grease and dirt to make removing them easier for the mop head.
·   Chelators: They help fight water spotting.
·   Citric Acid: As mentioned, you want your hardwood floor cleaner to have a neutral pH. Citric acid combines with alkaline ingredients to accomplish this.
·   Oxidizers: These products use hydrogen peroxide to break down dirt on neglected floors.

Again, it's best to consult your hardwood flooring manufacturer for their recommendation on the best hardwood floor cleaner.
Removing Stains from Your Hardwood Floors
Another critical component of how to clean wood floors is stain removal. You'll first need to know your floor's finish to remove stains.

With a urethane finish, stains typically remain on the surface. That makes it easy to remove them with a soft, clean cloth. Also, you'll never want to use sandpaper, steel wool, or chemicals on a urethane finish. Otherwise, you risk damaging the floor even more.

You'll need to remove the stain and effectively refinish the area for hardwood floors with an oil finish. For example, pet stains require rubbing the spot with steel wool and applying floor wax. If that doesn't do the trick, you can use bleach to soak it into the floor. Then rinse it off with a damp cloth and refinish the area.

Sometimes, you might need to sand the floor and use steel wool with mineral spirits.

For surface-level scratches, you use readily available touchup kits. Then, find the color that matches your hardwood flooring and use it according to the manufacturer's instructions.

You can also use crayons. Use a blow dryer to heat the area where you applied the crayon, and then buff it with a soft cloth.
Proper Floor Care Goes a Long Way
By understanding the basics of how to clean wood floors, you'll be well on your way to preserving your hardwood flooring. At the very least, focus your energies on a regimen involving regular vacuuming and dry mopping to keep damaging debris to a minimum, particularly in high-traffic areas.

You only need to worry about deep cleaning (using some hardwood flooring cleaner) on a quarterly or semi-annual basis. But, again, let traffic be the determinant.

Bruce offers numerous hardwood floor care products, including cleaning systems, hardwood floor cleaners, floor polish, terry cloth and microfiber mop covers, and touchup kits. You can use our retailer selector to find where to buy our hardwood flooring products near you.

And remember to check out our factory store, where you can get great deals on solid hardwood flooring, engineered hardwood flooring, and rigid core SPC flooring.
---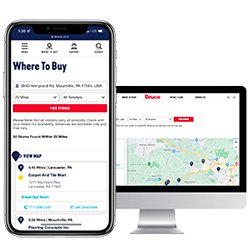 Ready to shop for floor cleaners near you?
Use our retail locator to find where you can buy Bruce floor care products. 
Find a Store