Allergy-Friendly Flooring
If you suffer from allergies, your selection of flooring may make a difference in indoor air quality. Hardwood presents one of the most allergy-friendly floorings.
July 20, 2023 | By Bruce Product Expert
Take a Deep Breath with Allergy-Friendly Flooring
According to the Asthma and Allergy Foundation of America (AAFA), more than 100 million people experience allergies. You know it can be a constant battle if you're one of those millions of sufferers. When allergens attack your immune system, symptoms can range from mild to significant breathing difficulties.

There's not much that you can do to conquer outdoor allergies. After all, you can't control the environment and pollen. But addressing them indoors is another matter. One way to take control there is with your flooring choice — install allergy-friendly flooring.

Allergy-friendly flooring can improve indoor air quality (IAC) and reduce allergen buildup. It just happens that hardwood flooring is one of the best, if not the best, flooring for allergies.


Common Allergens in Flooring
Typically, your home is full of allergens lthat may live anywhere, including bedding, pillows, sofas, and flooring. Soft surfaces are often the culprit, as they capture and retain the allergens. For that matter, allergens can even exist on your pets and create symptoms.

And countless types can trigger allergic reactions:
Dust mites

Pet dander

Mold
It's a tall order keeping your house allergen-free or at least minimizing their count. However, a good starting point is at the ground level with your flooring.
Characteristics of Allergy-Friendly Flooring
As mentioned, allergens typically hide on soft surfaces. So one flooring option to consider avoiding is carpeting. Unlike other flooring materials, dust mites, dirt, and mold are more readily trapped in carpeting. Even the best HEPA-filtered vacuum can't eliminate all of them from a carpet.

Worse still, the allergens can make their way to the carpet padding.

The most critical characteristic of allergy-friendly flooring is a hard surface. Some of the best floorings for allergens include luxury vinyl tile, laminate, engineered hardwood and solid hardwood flooring. Even then, you must pay close attention to how they're manufactured and installed.
What's the Best Flooring for Allergies?
Of all types of hard-surface flooring, solid hardwood floors are consistently recommended as one of the best floorings for allergies. They're durable, can be sanded and refinished, and are allergy friendly. It's also a plus that hardwood flooring is considered eco-friendly.

There are five reasons installing hardwood floors presents an excellent flooring option for allergy sufferers:
Hard Surface: We highlighted the need for a hard surface, and hardwood has just that. Hardwood flooring doesn't harbor micro-organisms, so it's easy to clean and remove any allergens from the flooring.

Maintenance: Hardwood floors are easy to maintain for allergy sufferers. Sweeping or vacuuming can remove dust, pet dander, and other allergens.

Mold and Mildew Resistance: Carpets may harbor mold and mildew, but hardwood flooring offers resistance to each. Some flooring, like Bruce's Dogwood®, includes new Cleantivity™ antimicrobial technology. It inhibits the growth of bacteria, mold, and mildew. 

Indoor Air Quality: Wood floors contribute to healthier indoor air quality. The air in your home stays cleaner because hardwood flooring doesn't trap dust and allergens. Additional studies have determined that wood flooring improves IAQ by moderating humidity levels. It naturally absorbs and releases moisture, adjusting to the room's conditions to maintain a comfortable, healthy indoor environment.
Maintaining Allergy-Friendly Flooring
To maximize the benefits of allergy-friendly flooring, follow these maintenance tips:
Regular Cleaning: Use a regular cleaning schedule to remove dust and allergens from the flooring surface. Vacuuming with a HEPA filter-equipped vacuum cleaner is highly recommended.

HEPA Filters: High-efficiency particulate air (HEPA) filters can effectively trap tiny allergen particles. As a result, those pathogens aren't released back into the air during vacuuming.

Moisture Prevention: Keep your floors dry and prevent moisture buildup to discourage mold and mildew growth. Promptly address any spills or leaks to avoid potential allergen issues.

Proper Sealing: Seal your floors to protect against moisture and ensure longevity. Regularly clean the grout lines for tile floors to prevent mold and mildew growth.
Other Allergy-Reducing Measures
In addition to choosing allergy-friendly flooring, consider using these measures to reduce allergens in your home further:
Washable Rugs & Mats: Place washable area rugs and mats in high-traffic areas to trap dirt and allergens. Ensure they are cleaned regularly to prevent allergen buildup.

Shoe-Free Policy: It may seem extreme. But having family members and guests remove their shoes helps prevent tracking allergens from outside.

Drape Cleaning: Clean curtains, drapes, and blinds regularly to remove dust and allergens that may accumulate on their surfaces.

Proper Systems: You can enhance the air quality in your home by utilizing adequate ventilation systems. You can also invest in high-quality air purifiers with HEPA filters.
Bruce Hardwood Flooring is Allergy-Friendly
Bruce solid hardwood is FloorScore(R) Certified. As a result, it complies with the volatile organic compound emissions criteria for the California Section 013559 program. Additionally, it's certified by SCS-EC10.3-2014 for Indoor Air Quality.

Our flooring is available from quality retailers throughout the United States. You can find a store near you to check for product availability using our Where to Buy search.
---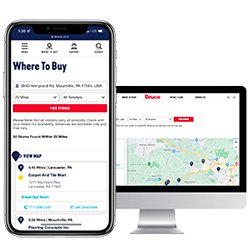 Ready to shop for allergy-friendly flooring near you?
Use our retail locator to find where you can buy Bruce engineered flooring products. 
Find a Store