Hardwood Flooring
Have you decided…
Solid or Engineered?
TWO DIFFERENT CONSTRUCTIONS. BOTH BEAUTIFUL AND DURABLE.
Should you go with solid hardwood or engineered hardwood? Both are made with genuine hardwood and available in a range of species, styles, and levels of durability—but they're constructed differently. The type you choose will depend on personal preference and where you plan to install.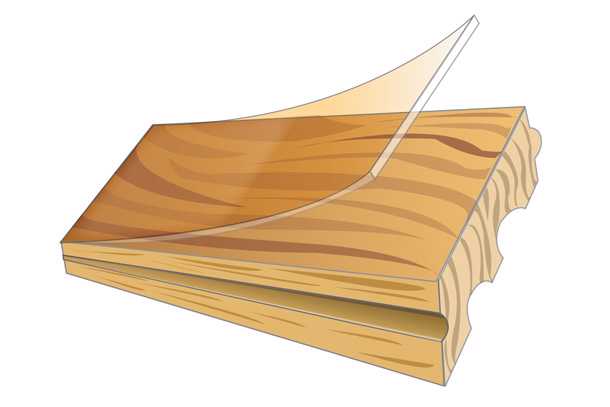 Solid Hardwood
Solid hardwood flooring is milled from a solid piece of 100% hardwood and topped with a protective finish. These floors are valued for their long-lasting beauty and durability. While they can be sanded and refinished several times if desired, you can also enjoy a look for life. Solid hardwood is installed over wood subfloors and is perfect for rooms on first and second floors—living areas, bedrooms and even kitchens. All Bruce® solid hardwood is made in the USA with domestically sourced lumber.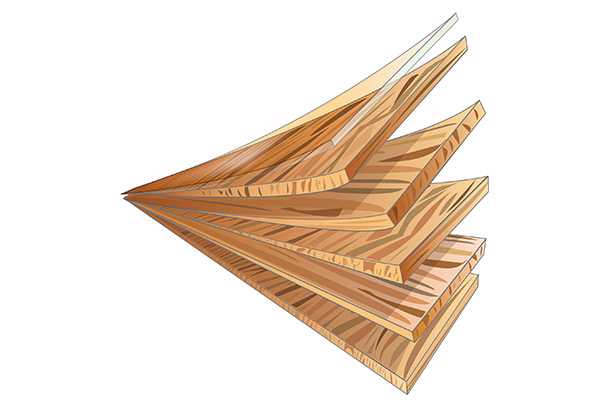 Engineered Hardwood – Plywood Core
Engineered hardwood flooring with a plywood core has a layered construction, with the top and bottom layer being 100% natural wood. The middle core is made with layers of crisscrossing plywood that are bonded for extra strength and stability. This structure makes engineered hardwood an excellent choice for installation on any floor of the home, including basements, and over concrete subfloors and radiant heating systems. Some engineered hardwood products that have a thicker top layer, so can be sanded and refinished.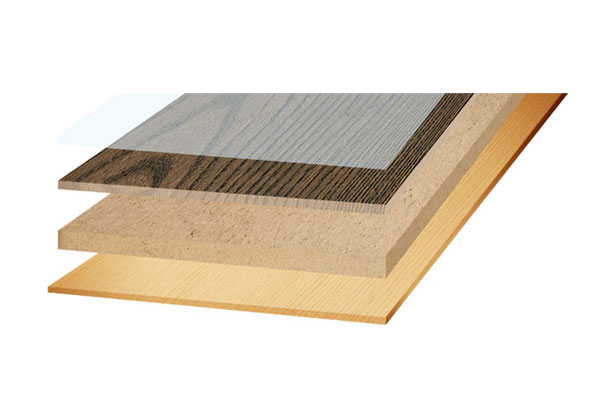 Engineered Hardwood – Densitek™ Core
Made up of layers, engineered hardwood with Densitek™ core is constructed with a 100% natural wood veneer top, Densitek™ core and 100% wood bottom. Densitek™ core is an engineered wood composite material created by compressing real wood fibers. It is more dense and less porous than solid wood or wood veneer, offering greater dent resistance, dimensional stability and moisture resistance.
Color & Style
TURN ENDLESS OPTIONS INTO ONE PERFECT LOOK.
To arrive at a design that fits your vision, you'll have choices to make. How do you feel about each of the flooring features below?
Color
What colors and tones work with the overall look you're trying to achieve? There's a whole spectrum of single- and multi-tonal designs to choose from.
Gloss Level
Like things shiny? High gloss flooring looks polished, but may not hide scratches as well. Low gloss looks natural and can show less wear.
Character
What are your thoughts on floors that show the natural character of the wood—variations in color, streaks and filled knots and splits? Character varies across wood species and collections. The less natural character that's visible, the more uniform the overall floor appears.
Texture
Do you prefer smooth and traditional or a more distressed or hand-scraped appearance?
Width
The width of individual hardwood planks affects the overall style and also how spacious a room feels. You can go more traditional with narrow strips of less than 3″ or create more open feeling space with wide planks up to 7-1/2″. Floors with multi-width planks create a more rustic feel.
End/Edge Shape
How defined do you want each plank to be? Square ends and edges create a seamless look. Micro-beveling offers subtle definition between boards. Scraped edges look rustic, and each plank stands out.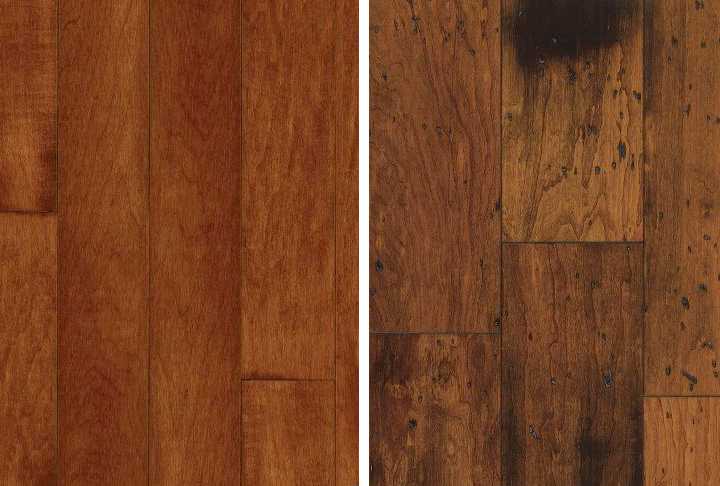 Wood Species
APPEARANCE AND DURABILITY VARY AMONG SPECIES.
Wood species refers to the type of hardwood used to make either solid or engineered hardwood flooring. With Bruce® you'll find Oak, Hickory, Maple, Birch, Cherry and Walnut. Some are more durable than others: Oak, Maple and Hickory are hardest, and better at resisting dents and scratches. Some show more natural character than others: Natural color and graining patterns vary and impact the floor's overall look.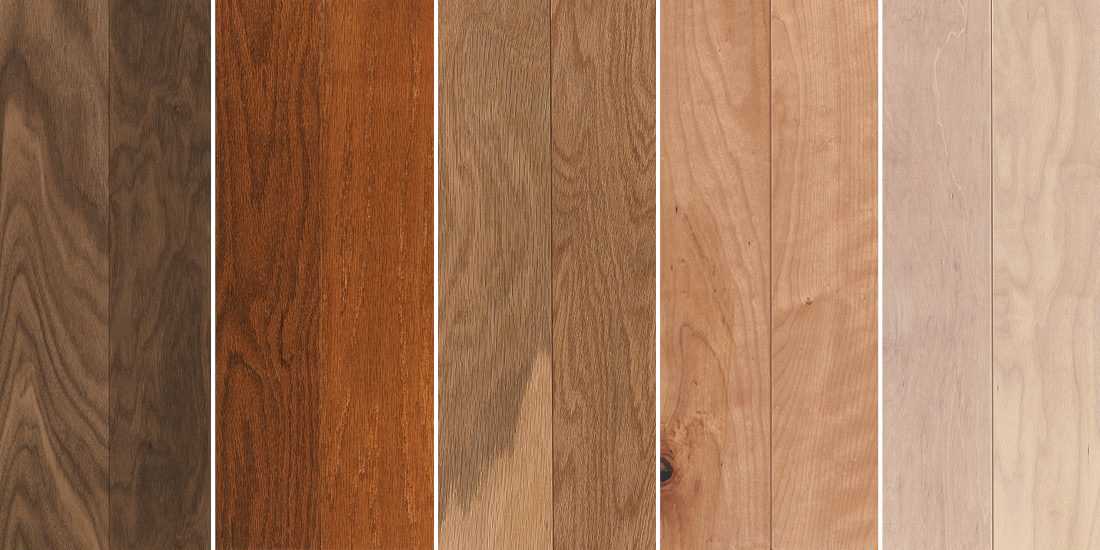 Durability
SEVERAL FACTORS AFFECT A HARDWOOD FLOOR'S RESILIENCE OVER TIME.
When deciding what type or style of hardwood flooring is best suited for your project, you can narrow your choices quite a bit by answering these three questions:
Where are you installing?
Engineered hardwood is best for rooms that have moisture potential, such as basements. They can also be installed over concrete slab or radiant heating. Solid hardwood is a great choice for dry, above-ground installations.
What kind of foot traffic is expected (including the four-legged kind)?
Some Bruce® collections are perfect for everyday wear, and premium ones offer our highest level of scratch, stain and water resistance. Harder wood species like Oak, Maple and Hickory might be better in high-traffic areas.
Looking for a lifetime investment?
All of our hardwood flooring products have comprehensive warranty coverage, including our Limited Lifetime Structural Integrity Warranty. Premium products come with our highest level of protection, guaranteed for life.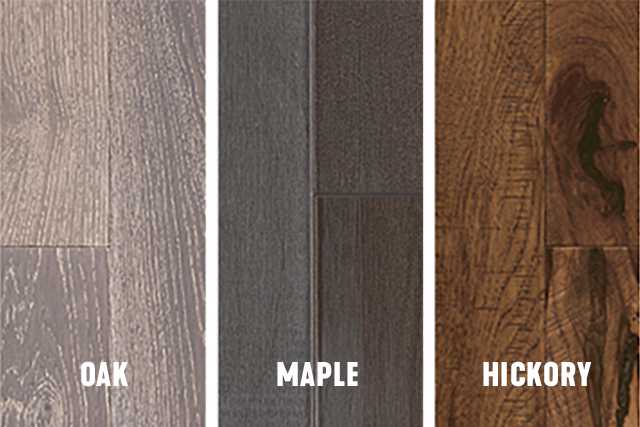 Category
Color
Look
Species
Collection
Gloss
Width
Thickness
Edge
Installation
DIY Level
Made in the USA
Item Shape