Enjoy Pet-Friendly Hardwood Flooring Thanks to Densified Wood
Have you always wanted hardwood floors but shied away from installing them because you feared your dog's nails would ruin your floors? Well, guess what. Now you can have pet-friendly hardwood flooring thanks to our revolutionary new process that produces hardened wood. New Dogwood densified wood flooring can tackle your dog's nails and come out the winner. No more gouges. No more scratches. Finally, you and your pet can live harmoniously with your hardwood flooring!
Watch Video
Award-Winning Densified Wood Technology

Real Hardwood Floors – Worry-Free!
Hickory pet friendly wood flooring
Charles 7 1/2″ Hickory – EHDG74L05W
Bernese 7 1/2″ Hickory – EHDG74L07W
Auggie 8 1/2″ Hickory – EHDG85L11W
Shetland 7 1/2″ Red Oak – EKDG74L08W
Bassett 8 1/2″ Walnut – EWDG85L12W
Siberian 8 1/2″ Walnut – EWDG85L13W
Collie 6 1/2″ White Oak – EKDG63L01W
Shepherd 6 1/2″ White Oak – EKDG63L02W
Sattler 6 1/2″ White Oak – EKDG63L03W
Bernard 7 1/2″ White Oak – EKDG74L04W
Lucca 7 1/2″ White Oak – EKDG74L06W
Winston 7 1/2″ White Oak – EKDG74L09W
Thatcher 7 1/2″ White Oak – EKDG74L10W
Now Available at Floor & Decor!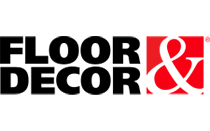 Densified Wood — The Benefits of Dogwood® Pet-Friendly Hardwood Flooring
Kid & Dog Friendly Hardwood Flooring
Dogwood densified wood flooring uses our patent-pending process that creates hardened wood. As a result, you get 100% natural hardwood flooring that's pet friendly. That's right—real hardwood and not something that uses other materials like laminate. In addition, the hardened wood fends off gouges from your dog's nails. It also does a great job of handling your kids and their toys, not to mention their constant coming and going. So, you can finally sit back and enjoy hardwood floors in your home!
Water-Resistant Flooring
Dogwood® pet-friendly wood flooring delivers water-resistant protection, protecting your floors from the occasional pet accident. It also makes them great for areas where solid hardwood floors encounter issues like basements or kitchens. So, you can enjoy dog-friendly hardwood flooring in almost every room of your house.
Mold & Mildew Resistant
Our new Cleantivity™ antimicrobial coating technology inhibits the growth of bacteria, mold and mildew.
Made in the USA with Domestic and Foreign Content
Best of all, Dogwood® densified wood flooring is made right here in the USA with domestic and foreign content. It comes in wider plank widths from 6-1/2 inches to 7-1/2 inches. Plus, you can choose from a variety of hardwood species, including hickory, red oak, white oak, and walnut in 13 color schemes. In addition, you can install the dog-friendly hardwood flooring with nails, glue, or even as a floating floor. That will make the DIYer in you even happier!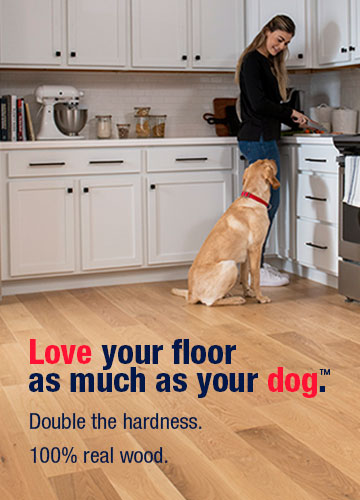 NEW Cleantivity™ Antimicrobial Coating Technology
Bruce® hardwood flooring with Dogwood® densified wood technology features our Cleantivity™ antimicrobial coating technology. The coating inhibits the growth of bacteria, mold and mildew and protects against odor, damage and discoloration that may be caused by mold or mildew. So, if you don't get to the occasional accident or fail to wipe up a spill, you'll have less concerns about mold growth.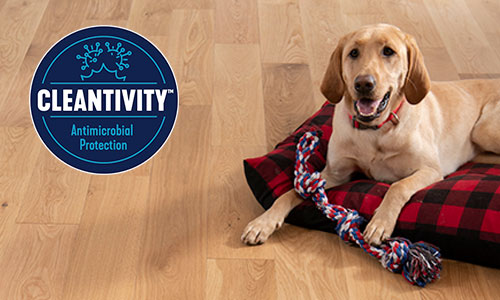 What is Densified Wood?
Our engineers have taken natural wood, made by nature, and made it even better. They've doubled the wood's denseness using a simple heat and pressure process. So, oak flooring, already hard by nature with a Janka hardness scale of 1360, becomes even harder, jumping to more than a 3000 rating.

And hickory floors offer an even higher Janka ranking at more than 3500. With hardened wood, say goodbye to gouges and scratches!

And did we mention, Dogwood densified wood floors come with a 35-year residential warranty? So, even if you aren't looking for a dog-proof hardwood floor, you'll know your floors will hold up to everyday use like a champ!

No chemicals. No additives. No fillers. No plastic. Just wood. Just better.
Watch Video
RED OAK WOOD VS. DENSIFIED WOOD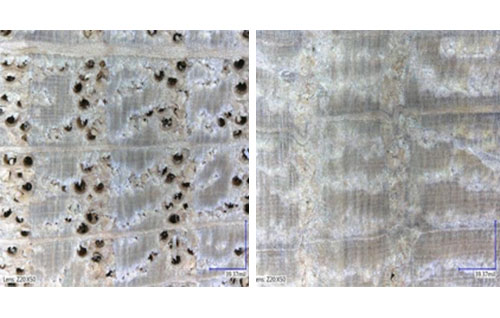 JANKA HARDNESS OF ORDINARY HARDWOOD VS. DOGWOOD™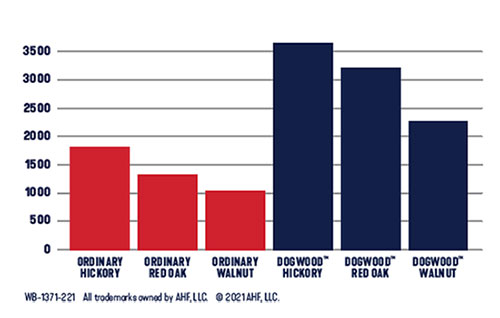 Case Studies
Dogwood® Densified Wood Flooring Proves Itself on Main Street – And on Your Street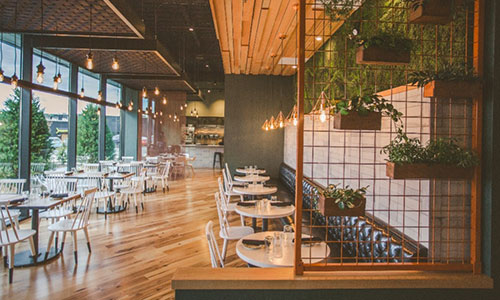 Per Diem Restaurant
Lititz, Pennsylvania
"We probably had 50,000 people over the past year, so this floor gets a lot of traction. It looks as good as the day it was installed.  It was easy to install – we also put a bit of cushioning underneath so that it's easy on our employees' feet. It's also super easy to maintain…easier than even LVT."

– Joshua Funk, Owner
Read Case Study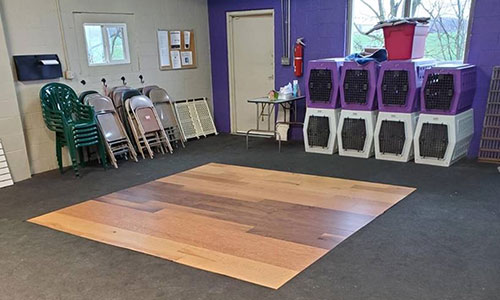 DogSense Doggie Day Care
Lancaster County, Pennsylvania
"The flooring held up really well. Personally, I love the look of hardwood flooring and it's my favorite in a home with dogs as it's easy to clean, it 'has character', it's timeless, and easy to put area rugs on top of it. Clean up is very easy!"

– Wendy Jordan, Owner
Read Case Study