Guide to Sustainable Wood Flooring
Homeowners know how beautiful hardwood floors look in a home. Plus, most homeowners know hardwood can increase their home's resale value. But did you know that wood flooring is one of the more sustainable flooring options? In this guide to sustainable wood flooring, we'll explain why you should consider hardwood flooring a sustainable option.
October 27, 2022 | By Bruce Product Expert
Sustainability Continues to Grow in Importance Among Consumers
Sustainability is all about meeting people's needs without impacting future generations. It focuses on the awareness that our planet has finite resources with the goal of reducing environmental impacts.

So, it's in everyone's best interest to work toward sustaining those resources. And studies indicate that we've been doing just that as a global community.

The Global Sustainability Study 2021 found that 85 percent of people globally shifted purchase behavior towards greater sustainability during the past five years.

A McKinsey & Co survey echoes that trend as 66 percent of respondents said they consider sustainability when making a purchase.

Moreover, according to the Economist Intelligence Unit, online searches for sustainable goods rose 71% within the past five years.


How Does Sustainability Relate to Flooring Options?
If you're considering new flooring and committed to sustainability, you need to look at five things for sustainable products:
1. Durability

The longer your flooring lasts, the less likely it is to wind up in a landfill. For example, nearly 90 percent of carpeting ends up in landfills. Even luxury vinyl and laminate tile may last longer than carpeting, but millions of pounds of it become waste each year.
2. Recyclability

With such a large amount of flooring winding up in landfills, it's wise to consider flooring you can recycle. You could even look for flooring made from recycled materials.
3. Indoor Air Quality

Indoor air quality (IAQ) can be up to five times worse than outdoor air quality, according to the EPA. Contributing factors include dander, radon, building materials, mold, and cigarette smoke. In addition, volatile organic compounds (VOCs) impact IAQ. And they're found in flooring options like vinyl and synthetic carpeting.
4. Natural Materials

Flooring with natural materials like wood or cork have lower carbon and embodied energy footprints. So, its production emits fewer volumes of greenhouse gases that can trap and release heat to affect climate change. For instance, carpeting typically carries a high carbon footprint.
5. Made in the USA

Purchasing flooring that's made in the USA supports sustainability. If the flooring is manufactured offshore, transporting it to the U.S. impacts the carbon footprint and sustainability.
Considering these items, let's dive into the sustainability of wood flooring. 
Forest Land Continues to Increase in the U.S.
No doubt your initial concern is that wood flooring production will likely lead to the demise of forests. But hopefully, some of these facts will alleviate that concern.oughly one-third of the United States, some 728 million acres, is blanketed by trees. Although that's about 70 percent of the forest land that existed upon Columbus's arrival here, it continues to grow. Indeed, we have more trees today than 70 years ago (AHMI). Scientists estimate that our forest land contains 230 billion trees, with more planted yearly. The forestry community planted 2.3 billion seedlings last year. Most importantly, the net annual growth in forest land exceeds harvesting by 31% annually.

Check out the American Hardwood Export Council's interactive map. It shows national and regional growth and removal of the main commercial hardwood species.
Wood Flooring is Carbon Neutral
One of the critical environmental concerns is achieving carbon neutrality. For example, the European Climate Law is committed to accomplishing carbon neutrality by 2050.

Here's the good news about wood flooring and sustainability. The U.S. Department of Agriculture (USDA) classifies it as a carbon-neutral product. So, wood flooring balances emitting and absorbing carbon from the atmosphere.

That carbon neutrality remains intact through the service life of the wood. It continues to store carbon, whether it's used in furniture, picture frames, or wood flooring.

Another upside is that wood flooring improves your home's air quality locally. For example, unlike carpeting, hardwood floors don't harbor allergens, dander, mold, and other pathogens. So, they help create better indoor air quality for your family. Equally important, most hardwood flooring doesn't emit high volumes of VOCs.

Wood Flooring's Durability Supports Sustainability
Hardwood flooring is incredibly durable, lasting up to 100 years or more. All you have to do is walk into a historic property from the 1700s for evidence.

A major plus to solid wood flooring is its ability to be refinished numerous times. As a result, wood flooring is less likely to end up in a landfill, which is where many other flooring options will wind up. For example, linoleum, laminate, and vinyl have estimated life spans of 15-25 years. Carpeting lasts only eight to ten years.
Domestic Hardwoods Are Even More Sustainable
Using domestic hardwoods like ash, maple, oak, and hickory support sustainability in several ways versus more exotic hardwoods.

First, domestic hardwoods can be monitored more proactively than exotic woods across seas. So, the wood flooring you buy is less likely to contribute to deforestation.

Second, those exotic hardwoods must be imported, impacting the carbon footprint owing to shipping requirements.

Third, although not necessarily a sustainability consideration, domestic hardwoods are typically less expensive than exotic hardwoods. And wood flooring made in the USA comes with high quality. Plus, it helps sustain U.S. workers, another part of sustainability's goal.
Certifications Ensuring Wood Flooring's Sustainability
There are organizations like the Forest Stewardship Council (FSC) and the National Wood Flooring Association's (MWFA) Responsible Procurement Program (RPP). Both ensure that the wood is responsibly harvested to avoid deforestation.

The FSC includes a certification program ensuring products come from responsibly managed forests.
The RPP is a joint initiative uniting environmental groups and flooring manufacturers. It's committed to producing wood flooring only from environmentally and socially responsible sources. Its goal is to improve forest sustainability for the next generations.

So, if you're shopping for sustainable wood flooring, look for products certified by these organizations.
Wood Flooring is Reusable
We already mentioned that wood flooring could be refinished multiple times. And that not only keeps it out of landfills, but also saves you the hassle of replacing your flooring. But another element to wood flooring's sustainability is that it's reusable, a critical component of the entire sustainability equation. In fact, consumers view reclaimed wood as trendy. It can be used on walls to add character to a room or even turned into furniture. Even more beneficial is that reclaimed wood doesn't require harvesting new trees.

And finally, even if wood flooring isn't reclaimed, it's a biodegradable product making it more environmentally friendly than other flooring options.
You Can Count on Bruce for Sustainable Wood Flooring
Bruce hardwood flooring is made in the USA. We harvest the majority of trees in the Appalachian region, where sustainable, native hardwood species are abundant.

Our solid hardwood flooring includes hickory, maple, red oak, and white oak. Our engineered hardwood flooring consists of these favorites and other wood species like ash, birch, cherry, and walnut.  
 
And by the way, engineered hardwood can be an even more eco-friendly flooring option. It uses less of the tree for each plank than hardwood flooring.

Check out our DIY-friendly wood flooring online or stop by your nearest retailer to see our hardwood flooring. You can also shop for great deals on Bruce sustainable wood flooring at our Factory Store. 

---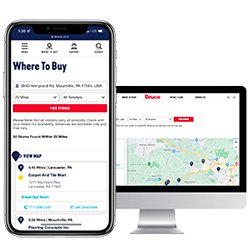 Ready to shop for sustainable wood flooring near you?
Use our retail locator to find where you can buy Bruce hardwood flooring. 
Find a Store