Surround Yourself with the Warmth and Richness of Beautiful Bruce Floors.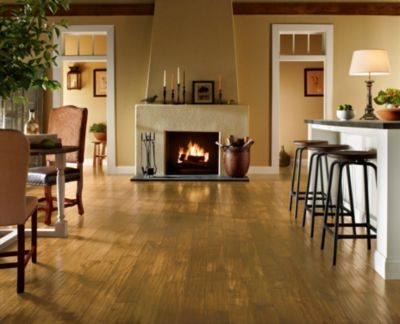 Step into a home with a Bruce floor and feel the richness and warmth surround you. The exceptional quality and timeless style of a Bruce premium hardwood or laminate floor gives a room an air of distinction. Behind the Bruce name, you'll find excellence in design, materials, and craftsmanship – qualities you demand for your home.
Why Buy a Bruce Floor?
Inspiring designs – Browse through Bruce's luxurious selection of design styles, colors, species, and specialty finishes. Bruce hardwood floor styles include traditional, rustic, hand-scraped, and domestic exotic species. With Bruce laminate floors, you'll find a wide range of fresh and exciting styles in natural wood looks and realistic stone visuals. The versatility of Bruce designs makes it easy to find the perfect hardwood or laminate floor to match your decorating style.
Quality materials – Bruce hardwood floors reflect all the natural beauty of carefully selected domestic woods. Every Bruce hardwood plank preserves the distinctive look of the individual wood species with dense graining, natural knots and burls, worm holes, and other character marks.
Our laminate floors use exclusive high definition print technology to capture the most realistic wood visuals and textures. High-density fiberboard construction provides the necessary strength and stability to assure a durable surface with an authentic solid wood feel.
Skilled craftsmanship – We capture the quality and character of time-honored craftsmanship in each Bruce floor we make. Superior quality is achieved not only through traditional artistry, but also exacting precision in the milling process and rigorous quality inspections afterward.
Creating the home of your dreams starts with lasting quality and ends with timeless style. Make the most of your living space with Bruce floors.