With great durability and unique design, laminate flooring is another excellent option.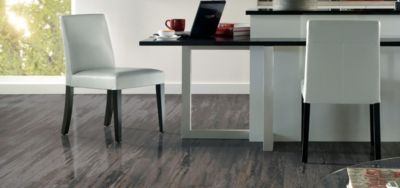 One of the remarkable features about laminate floors is that you can fulfill your design dreams without sacrificing durability and affordability. You'll find many of the same great looks as with hardwood and ceramic tile – plus designs that aren't available anywhere else. Laminate also delivers the kind of durability that can stand up to the scratches, dents, and stains of active households.
Hard-wearing laminate flooring provides many years of beautiful service, but you'll want to get the most out of your purchase by making sure you choose a quality laminate product. Check out the reasons why Bruce may have exactly what you're looking for.
Why Buy Bruce Laminate Flooring?
Incredible realism – Bruce laminate floors use high-definition print technology to create strikingly realistic boards and tiles that look exactly like their real wood, ceramic, and stone counterparts. You'll appreciate how much these floors contribute to the visual appeal of a room.
Enhanced durability – All Bruce laminate floors have an extremely tough wear layer that protects against stains, scratches, and scuffs. An invisible UV coating also protects against fading over time, even when exposed to sunlight.
Impressive design – The Bruce Premium Designer Collections offer unique laminate floors that can help you achieve looks you never thought possible, like exotic wood, reclaimed wood, aged metal, precast concrete – or even a custom hardwood installation.
Solid feel underfoot – HDF core construction ensures stability, so your laminate floor has a more substantial feel and the solid sound of real hardwood. Plus, a thermo-fused backing forms a protective barrier against moisture wicking up from the subfloor, a common cause of board warping or cupping.
Lock&Fold® Installation – Thinking about installing laminate flooring yourself? The unique tongue-and-groove profile of Bruce laminate floors allows for easy installation by just locking board edges into place. With no special tools or glue required, you can install a laminate floor in a single afternoon.
With Bruce laminate flooring, you get a variety of classic and unexpected looks, excellent wear, and carefree maintenance. It's the floor you dream of, designed with reality in mind.