Save time and money by using these methods when installing laminate flooring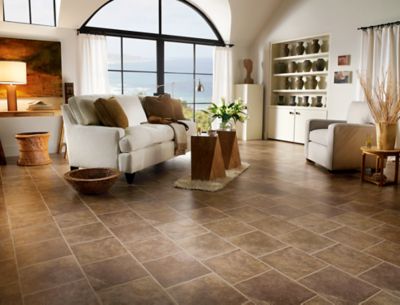 There's a lot to love about laminate floor, and high on that list is the ease of installation. For weekend DIYers looking to trim their decorating budget without sacrificing style and quality, laminate gives you the option to install a beautiful new floor in any room with confidence and success – and fewer costs.
How to Install Laminate Flooring
Bruce laminate flooring is designed for a "floating floor" method of installation. That means no glue, nails, or staples. Instead, Bruce laminate uses Lock&Fold technology: boards simply lock together and fold into place. After the boards are installed, the entire floor "floats" above the subfloor, expanding and contracting with the natural temperature and humidity changes in your home.
Bruce Lock&Fold technology is 30% faster than standard glue-down installation and, because you don't need to buy adhesives or special tools, or rent fastening equipment, you save money and time.
The versatility of a floating floor installation also allows the laminate to be installed directly over various existing floors, including wood, concrete, ceramic tile, vinyl tile and vinyl sheet, even carpet.*
The beauty of this feature is that is you don't have to pull up old flooring or deal with the mess of repairing a damaged subfloor. Just make sure your subfloor is structurally sound, dry, clean, and flat.
Importance of Underlayment
Because laminate flooring can go over an existing floor, you may wonder if an underlayment is necessary. The truth is, the right underlayment is critical to a successful laminate installation. Underlayment acts as the moisture barrier between the subfloor and laminate boards. If you're installing a wood-look product, the underlayment helps the floor sound and feel more like a real hardwood floor.
To help ensure your laminate installation runs smoothly, plan ahead by first reading the instructions on installing laminate flooring. It's also a good idea to run down a list of the tools you'll need and give yourself enough time to install your laminate floor properly.
Of course, you can always hire a professional installer to do the work, but consider the money you can save by doing the work yourself. Lock&Fold makes it easy.
*Carpet must be fully adhered to the subfloor and no more than 1/4" thick.