Quick Start Guide to Installing Bruce Hardwood Flooring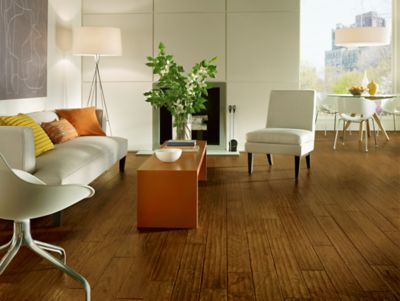 The classic beauty and enduring quality of hardwood floors makes them one of the most popular flooring options. You may be surprised to learn that do-it-yourselfers can install hardwood flooring themselves and achieve great results. All it takes is the right floor system, preparation, tools, and installation instructions.
Before you roll up your sleeves and reach for your tape measure, ask yourself:
• Do I have the DIY skill level to get a professional look?
• Do I have the time?
• How much money can I save?
If your answers point towards a DIY installation, read on.
Methods of Installing Hardwood Flooring
Bruce hardwood floors are installed using one of three options:
• Nail-down
• Glue-down
• Floating – floor boards are attached to each other, not the subfloor
The installation option you choose will depend on whether you're installing solid or engineered hardwood. Solid hardwood can be nailed or glued only. You can install engineered boards using all three options, with floating being the fastest and easiest. Carefully consider all your installation options before making your product selection, so you get the flooring system that works best for your needs.
Solid vs. Engineered Hardwood
Milled from a single piece of wood, solid hardwood expands and contracts to changes in your home's relative humidity and seasonal temperature fluctuations. As a result, solid hardwood floors are recommended only for installation at or above ground level.
Engineered boards are more dimensionally stable and don't react as much to changes in temperature or moisture, so they're ideal for below grade areas, such as basements.
How to Install Hardwood Flooring
Start by downloading the installation instructions for your hardwood product. Here is where you'll find all you need to know about how to install hardwood floors. This detailed manual will provide:
• A complete list of tools and accessories
• Guidelines for setting up your work area
• How to prepare your subfloor
• Requirements for the right underlayment
• Step-by-step installation instructions
• Checklist of trims and moldings you may need for a finished look
Installing hardwood flooring is a surefire way to increase the beauty, comfort, and value of your home.