Consider Hickory Hardwood Flooring for Its Exotic Style, Durability, and Affordable Cost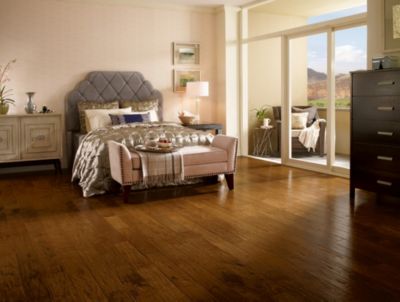 The unique beauty of hickory hardwood flooring appeals to those who love the distinctive style of exotic hardwoods but don't have the budget for luxury flooring. For price-conscious homeowners, domestic hickory boasts many of the sought-after features of a tropical species such as vibrant grain patterns, dramatic coloration, and exceptional hardness – all at a more affordable price.
Check out what else a hickory wood floor has to offer and see if it just might win your heart.
Features of Bruce Hickory Flooring
Beautiful grain pattern – Hickory's pronounced, two-tone coloration of fine brown lines interlaced with reddish tan and creamy white comes from slow changes that occur between spring and summer growing seasons. And unlike exotic hardwoods, hickory has a low light sensitivity, which means that color shifts in the wood due to exposure to light occur more slowly.
Design options – Bruce hickory hardwood flooring runs the gamut of finishes and styles. From rustic and distressed wood flooring planks that lend a country air to traditional widths that add rich character, there's a hickory floor to satisfy your decorating style and decor.
High hardness rating – Hickory's hardness rating of 1820 makes it 41% harder than oak – long the industry benchmark for comparing the relative hardness of wood floors.
Durability for active lifestyles – If your floor is subject to high traffic and the constant activity of kids and pets, hickory is a great choice. In living rooms, hallways, kitchens, and foyers, you'll feel good knowing your hickory wood floor can hold up under the wear and tear of daily living.
Easy care – Bruce technology uses a factory-applied protective finish to increase hickory hardwood's natural resistance to scratches, dents, and dings. And caring for your Bruce floor is practically effortless. Cleaning hardwood floors is a simple routine, and it's all you have to do in order to maintain its strength and lasting beauty.
Much like a work of art, a Bruce hickory wood floor turns any space into a statement of style and taste.