The Appeal of Wide Plank Flooring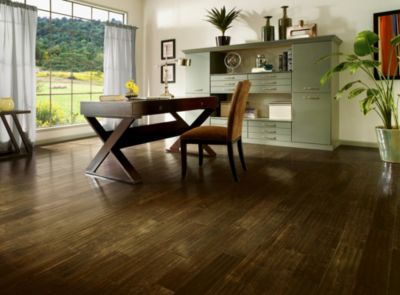 Are you ready to add warmth and beauty to your home with a distinctive wood floor? Then you'll love Bruce wide plank hardwood flooring. These floors come in 5" or 7" board widths in a variety of looks, species, and colors.
Think "wide plank floors" and you can easily picture homes from a century ago when skilled craftsmen who would mill the lumber from logs into various widths and lengths and carve the floors themselves by hand. Today's floors are made quite differently, of course, but technology has enabled manufacturers to recapture the authentic look and feel of those century-old planks that hold such lasting appeal.
Why do homeowners today choose wide plank wood flooring? Style. Wide planks elevate the style factor of any room. The large size planks offer a timeless appeal that can anchor a room with a traditional or rustic décor or draw attention in a modern setting by contrasting with contemporary decorating elements. Whatever your design theme, wide plank flooring is a premier option for homeowners with stylish decorating tastes.
View Wide Plank Wood Flooring
Wide Plank Looks
Once you've selected wide plank flooring, next consider the look of your boards. Bruce wide planks are available with a range of surface textures and finishes – from smooth to distressed to hand-scraped. Bruce even offers a "specialty wood" look for floors that are pre-finished with a liquid acrylic finish for high durability.
Wood Species
Wood species and color also affect the look of a wide plank floor. Each wood species has its own original color, grain pattern, and hardness level. Which one you choose will depend on your taste and your lifestyle. Black acacia, hickory, oak, and maple have high hardness levels, making them ideal for busy homes or rooms with high traffic. Oak is a perennial favorite, while hickory and walnut are gaining favor fast due to their suitability in rustic settings. Birch and cherry hardwood flooring have medium hardness levels, so you can feel comfortable installing them in bedrooms, dining rooms, or any room where you want to create a traditional or elegant statement. Stain colors for Bruce wide plank floors include red-brown, copper, brown, dark brown, tan, and black.
View Cherry Hardwood Flooring
Construction and Gloss
Bruce wide plank floors have either solid or engineered construction. Floors with solid construction can be installed above ground level, though they're not recommended in rooms with high levels of moisture. But you can still get the look of wide plank hardwood below ground level with an engineered wood floor. These floors have a multi-ply construction that provides strength and stability in areas like finished basements and laundry rooms.
Choose the gloss level that matches your room design. You'll find more than 100 wide plank Bruce floors with low gloss that works well with rustic or beach/cottage interiors. For contemporary, modern, or traditional room styles, select a medium or high gloss finish for a more polished appearance.
Bruce Hardwood has been a trusted name in American homes for more than a century, so you can be sure your wide plank hardwood floor will look and perform beautifully for years.